Orange Ice Kacang

By Alderic Teo

Prep Time: 10 minutes
Total Time: 25 minutes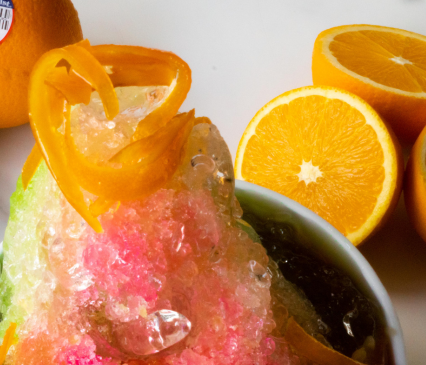 Directions
Juice 5pcs sunkist navel oranges, sifting the juices through a fine mesh to remove any pulp.

Scrap the remaining pulp from the oranges and squeeze them through a cheesecloth for the remaining juices.

Save the peel of the oranges, scrap off the white, bitter part of the peels and julienne the peel.

To a saucepot, add the sifted orange juice, sugar and julienne orange peel and the juice of 1 lemon. Simmer until it reaches a sticky consistency.

Transfer to a mason jar and let it cool completely.

Simmer red beans with sugar and water for 1.5 hours or until softened.

Prepare sugar solution by dissolving 80g of white sugar in 80 ml of water and 40g of brown sugar in 40ml of water.

Separate the white sugar solution into 2 bowls and drip 2-3 drops of red and green food coloring respectively.

Put ice cubes into a blender and pulse at high speed. Once ice cubes are broken down enough, continue blending at high until desired texture. (note: do not over blend as it will cause the ice cubes to melt).

Scoop your favourite toppings into your bowl.

Pack the blended ice on top of it, forming a "mountain".

Spoon the colored sugar solutions over.

Drizzle a few rounds of condensed milk.

Spoon over generously the homemade sunkist orange marmalade.