Orange Char Siu Pork

By Lim Jen Jen

Prep Time: 15 Min
Total Time: 50 Min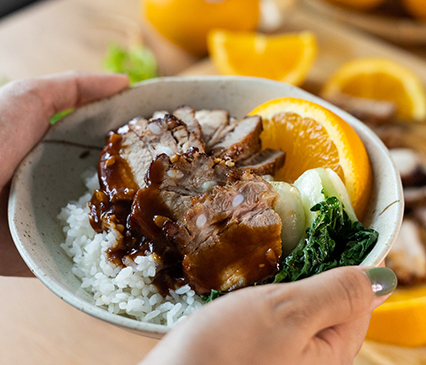 Directions
Stir the Sunkist Navel orange juice, Hoisin sauce, oyster sauce, light soy sauce, honey, chinese cooking wine, dark soy sauce, five spice powder, white pepper, sugar and minced garlic to combine.

Soak the pork belly in the marinade overnight.

The next day, remove the marinated pork belly from the fridge and let it come to room temperature.

Preheat the oven to 200C.

Place pork belly on baking tray lined with aluminum foil.

Set oven to 30 minutes to roast, removing at half-way mark to flip the meat over and baste the pork with the marinade.

Set oven to high in grill mode and grill up to 2 minutes on each side. If the meat appears dry, baste each side with the marinade.

Remove from oven and let the char siu pork cool on a wire rack.

While the meat is cooling, prepare the sauce by boiling the marinade with water and corn flour in a pot. Keep stirring while the sauce is boiling to prevent charring. Once it has thickened, remove it from the pot and serve it with the char siu pork over rice or noodles.