Orange Chilli Crab

By Lim Jen Jen

Prep Time: 20 Min
Total Time: 40 Min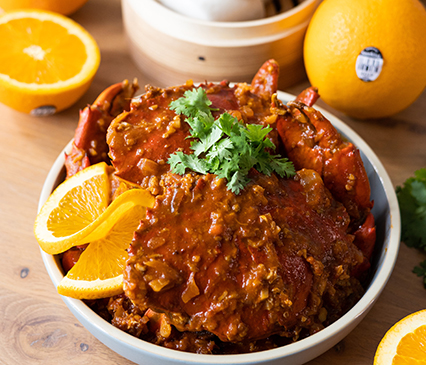 Directions
In a pot, add vegetable cooking oil. Once hot, sauté onions, ginger, garlic until fragrant.

Add belacan sambal chilli, tomato sauce and ketchup, stirring to combine.

Once combined, add freshly squeezed Sunkist Navel orange juice to the pot. Stir to combine and bring the mixture to a boil.

Add pincers and let it simmer in a covered pot for 3 minutes. Add remaining parts and continue simmering in a covered pot for another 7 minutes.

Remove the crab and set it aside.

Add vinegar, sugar, and salt to the sauce in the pot.

Gently stir in the beaten egg and mix the sauce well.

Return crab to sauce mixture and let it simmer for 1 minute in a covered pot.

Transfer crab and gravy to a serving dish and garnish with coriander.

VARIATION:
• Serve the dish with Mantou, also known as steamed plain buns, to enjoy the sauce as a delectable dip.